About Us – Licensed Public Adjusters
All Claims USA Public Adjusters is a leading Public Adjusting Firm located in Boca Raton, FL. Servicing all of Florida, we work exclusively for the policyholder for both residential and commercial insurance claims. Whether you have a new, denied, or underpaid property damage claim, we're the professionals you want on your side. Our Licensed Public Adjusters work for you, not the insurance company.
Our experienced team will unravel the complexities of your policy to see what is covered and not, and properly value your loss.  Our primary goal is to make sure you get the maximum settlement you are entitled to under your insurance policy. Our licensed Public Adjusters are property damage experts and protect your best interests throughout the claim process. We provide peace of mind and help you get your home or business back to normal as soon as possible. From small household claims to multi-million dollar commercial claims, we've done it all. If a loss has occurred, don't hesitate to reach out to our team!
A Proven Track Record of Success
Over the years, we've gained countless satisfied customers and earned an A+ rating with the Better Business Bureau. In addition, we're members of the Florida Association of Public Insurance Adjusters (FAPIA) and adhere to the strictest code of ethics in the industry. With our extensive experience and specialized knowledge, our Licensed Public Adjusters will be sure to protect your rights and avoid costly mistakes.
Expertise in All Types of Property Damage Insurance Claims
We're pleased to handle and negotiate property damage claims for a variety of damages. These include water damage, flood, roof damage, pipe breaks/leaks, fire, smoke, mold, storm damage, hurricane damage, theft, and more. No matter what your claim involves, we pledge to make a positive difference in its outcome.
Why Hire Us – Public Adjusters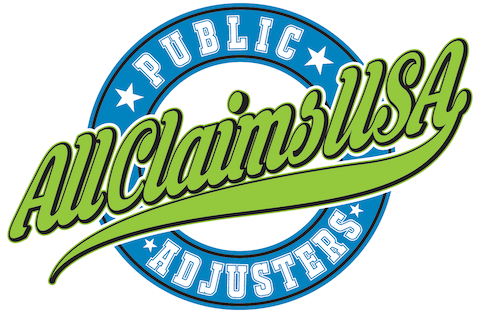 Level the playing field – Your insurance company has an adjuster. We are the adjuster on your side.
We have an extensive background in construction and an excellent network of professionals we utilize as needed.
We save you time and money. You'll avoid costly mistakes.
We reduce stress of dealing with your insurance carrier.
We provide a comprehensive, professional estimate of all damages and losses for your insurance company.
We challenge denied or underpaid claims when needed.
You'll obtain a full and fair settlement
If you make the smart decision to hire All Claims USA Public Adjusters, you can expect us to:
Examine and review your insurance policy to assess coverage related to your claim.
Develop a strategy that ensures you receive everything you're entitled to in your policy.
Research and document the full extent of damages to property, buildings, and their contents.
Calculate and prepare proof of loss and costs incurred for your insurance company.
Document your entire claim with cutting-edge software and technology that provides detailed structural estimates. These include but are not limited to damage to your home or building, personal property, ALE/additional living expenses, loss of income, replacement cost value reimbursement (RCV). No detail is overlooked.
Prepare and reach agreement with your insurance company on a proper scope of loss.
Educate, advise and maintain transparent communication with you so you can make informed decisions about your options throughout the process.
Negotiate the maximum settlement possible under the terms of your insurance policy.
Check out some of our Client Case Examples and Testimonials to hear how we've helped our past clients!
We are Proud Business Sponsors of 4Kids of South Florida & members of Boca Raton Chamber Of Commerce & Florida Association of Public Adjusters.