Do you need a Public Adjuster for Mold? Mold infestations can be very serious and dangerous. It takes little time to spread throughout an entire home or business. Once mold and mildew have taken hold, it becomes a serious to remove the mold problem and repair/restore back to a healthy condition. Costs involved can be very costly depending on how you go about handling the damage. Here at All Claims USA Public Adjusters, we have over 15 years of experience dealing with mold on a weekly basis.  Let us put our experience to work and help you get the compensation you deserve.
"I had the opportunity to work with Mark and Lori and they were a tremendous help with our mold situation. I really appreciate their hard work and making the very difficult process easier. I would definitely recommend them to anyone who is filing a claim with their house insurer." – Jenny, Florida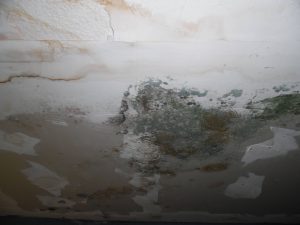 What should I do after suffering Mold Damage?
After finding a mold or mildew infestation, you want to make sure you have a licensed Public Adjuster assess the damage and give you a professional opinion on the next steps to take. An accurate estimate from a licensed Public Adjuster is essential. If you file a claim, your insurance company will send out thier adjuster to assess the damages. You will want an adjuster on your side with your best interest in mind. We also work with trusted mold remediation companies that can help dry out and other services needed to repair and rebuild.
How much Mold Damage will my insurance cover?
More than you think. Adjusters provided by your insurance provider are well intentioned but they work for the insurance company and their job is to save them money. Often times we see cases where critical damages that should have been covered were overlooked. Avoid any chance of this happening by using an experienced public adjuster from All Claims USA Public Adjusters to fight for what you deserve! See some of our client testimonials here.
IF YOU THINK YOU HAVE MOLD OR RECEIVED A LOW OFFER ON YOUR MOLD DAMAGE INSURANCE CLAIM, CALL 866-900-8811 FOR FREE MOLD DAMAGE INSPECTION.WE MAY BE ABLE TO SIGNIFICANTLY INCREASE YOUR PAYOUT.