You deserve to have a fair settlement on your insurance claim. With over a decade of experience with everything from small household claims to multi-million dollar commercial claims, All Claims USA will service you professionally, honestly, with integrity while working hard on your claim. We service you with a personal and professional approach and all our public adjusters are licensed with hundreds of satisfied clients throughout the years. Our goal is to determine the maximum benefit you are entitled to for your claim and make sure you are paid accordingly. In most cases, attempting to handle a claim on your own will result in receiving the bare minimum the insurance company can pay you. All Claims USA will come to your business or residential property and do a thorough inspection of your damages. Submitting an accurate, detailed claim is crucial to getting the right amount of money from an insurance company to cover a property loss. We take the stress off of your plate and handle the entire claim for you. Claims for flood, pipe breaks, fire, smoke, mold, wind and hurricane damage, as well as other damages can be filed and negotiated by All Claims USA Public Adjusters. We work on behalf of the policyholder to help our clients get what you're entitled to from the insurance claim and work to expedite the process.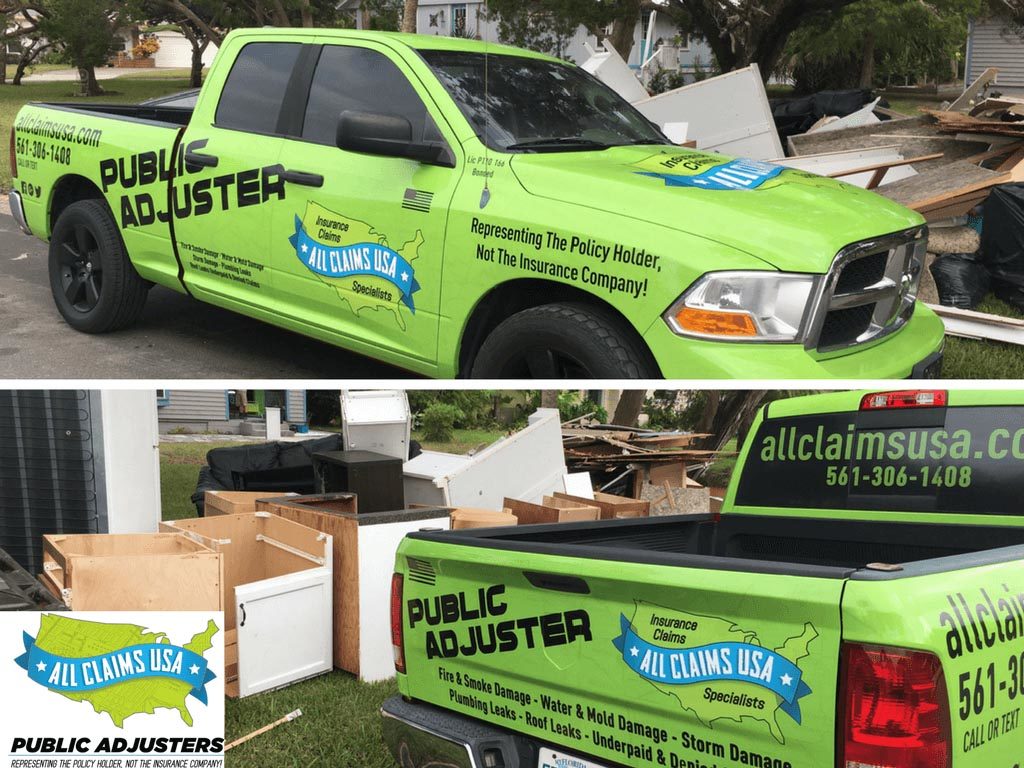 Insurance policy analysis

Onsite visit and professional estimate written up for insurance company

Arrangement of advanced checks to our clients when necessary

Refer licensed contractors, and restoration companies to assist you with securing and controlling the damage

Protect undamaged items from further damage as required by your insurance company

Help you obtain temporary residence if needed, maintaining your normal standard of living as covered by your policy

Take inventory of your personal property that was damaged and transfer to a professional document for the insurance company to pay accordingly

Gather and prepare all the documentation including proof of loss for submission to your insurance company as is required according to your policy

We handle all the negotiations of your claim with the insurance company. We are experts in negotiating the maximum allowed benefit you are entitled to under your policy.

We walk you through and advise you every step of the way until the claim is settled

We are licensed public adjusters Boca Raton Florida, currently servicing the following states and are ready to meet you for a consultation: CO, CT, DC, DE, FL, GA, IN, KS, KY, LA, MA, ME, MI, NC, NH, NJ, NY, OK, PA, RI, SC, TN, TX, VA

Let us inspect your property and get you the money you deserve for your loss.
We handle all commercial and residential claims.
We can file a new claim or re-open any claim.
We get paid only from the money that we recover
NO RECOVERY, NO FEE!