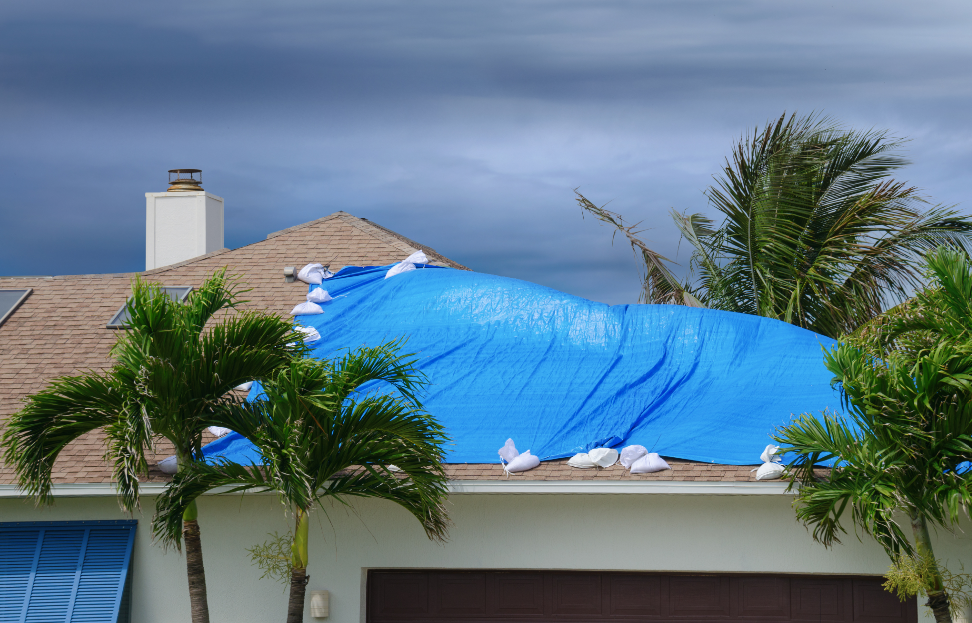 Your roof is one of the most important parts of your home. As long as it's in optimal condition, it can protect against snow, hail, rain, branches, and debris. On the contrary, a damaged roof can lead to leaks, mold and mildew, structural issues, and other costly problems. Therefore, it is essential to maintain your roof and ensure it is always in good shape.
While roof maintenance is crucial, there is no guarantee that it will always prevent future roof damage. Heavy winds that stem from thunderstorms, tornados, or hurricanes can take a toll on your roof, even if you have maintained it well.
Generally speaking, the older your roof is, the greater you can expect the damage to be. So what can you do if your roof has sustained damage as a result of a natural disaster or another event that was out of your control? Fortunately, you can file a claim with your home insurance company who may cover your roof repair or replacement and interior damages.
About Roof Damage Claims
Most home insurance policies will approve roof damage claims if the damage was unexpected and unpreventable. For example, depending on your policy, your insurance company should pay for some or all of the repair or replacement costs if heavy winds blow away a few of your singles or a tree branch falls on your roof during a heavy storm and causes structural and/or interior damage.
Just like most businesses, insurance companies exist to make money. Therefore, there are many instances where they will deny a roof damage claim. Here are a few of them.
You have neglected or failed to maintain your roof.
Your roof contains pre-existing damage that was not repaired.
You did not inform your insurance company of the roof damage in time.
Your repair or replacement is cosmetic rather than structural.
What to Do If Your Roof Sustains Damage
If your roof damage was the result of a Storm or another covered event that was out of your control, follow these steps to increase your chances of approval for the maximum settlement you may be entitled to.
Make a list of the various damages to your roof and interior of home.
Take photos of the damaged areas.
Make temporary repairs to protect your home if possible. Be sure to save the receipts of any materials you purchase to do so.
Find another place to live if your roof condition poses a safety threat to you and your family. Save any hotel or rental property receipts.
Hire a licensed public adjuster so you avoid any costly mistakes and make sure you claim is handled fairly and correctly and you get the right payout.
Why Hire a Public Adjuster?
Once you hire a licensed public adjuster, you can expect them to perform a thorough, professional, inspection of your roof damage and document it properly. Then, depending on where you are at in the process, they'll help you file a claim and avoid the loopholes and technicalities that insurers often use to deny claims. Although it's best to contact your trusted Public Adjuster as soon as you see damage, it's never too late to see if they can help. For example, Public Adjusters can often get wrongly denied claims paid, or, a common scenario is where someone receives an underpaid payout and the Public Adjuster works to get you the settlement you deserve. With a public adjuster by your side, you can increase your chances of getting the most out of your claim and ensure you get the funds you need to restore your pre-loss condition. Remember- your insurance company will send out their adjuster to review and record all your damages. You have a right to have a Public Adjuster represent you. It will take all the stress off your plate and it's proven you will have a better chance of receiving the financial outcome you deserve.
Contact All Claims USA Public Adjusters
If you are interested in hiring a licensed public adjuster for your roof or other damage claim, don't hesitate to contact All Claims USA Public Adjusters today. For the past 15 years, we have made a huge difference in the outcome of thousands of commercial and residential clients who have faced property damage that was the result of a situation that was out of their control.
We are devoted to making sure our clients receive a fair and rightful settlement they deserve for their claim. We are A+ rated by BBB, check out our client testimonials and case studies. Call us at 866.900.8811 for a free claim assessment and consultation. Our Public Adjusters in Florida and other states such as FL, NJ, GA, SC, NC, MS are ready to help you today.